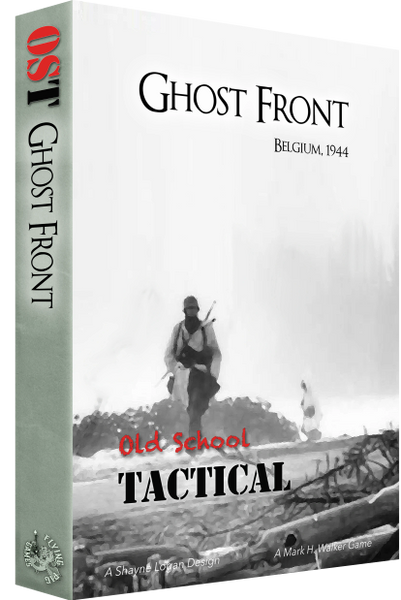 Ghost Front
Ghost Front is out of stock.
This an expansion. You must own Old School Tactical Volume II to play Ghost Front.
Wargamer on a budget? Buy the PDF of Ghost Front here, and build your own copy.

Ghost Front is the second expansion to Old School Tactical Vol II, covering the German's Ardennes offensive of 1944. This boxed expansion includes a new, 30" x 41" mounted map board depicting snowy Ardennes terrain, a new sheet of counters with new SS and American units, unit data cards, and an 11-scenario booklet. 

This boxed expansion includes:
1 x 30" x 41" mounted game board.

1 full sheet of 102 counters including new SS units, StuG III, Panzer IV/70 tank destroyers, the American Jumbo Sherman, M5 and M1 anti-tank gun, and more.
11 new scenarios including, Lausdell Crossroads, Knocking on the Door, Cat and Mouse, Greif I, Dom Butgenbach, Stand at St. Vith, Nuts!, Joyeux Noel, Daredevil Tankers, and Peiper's Chariots.
a sharp-looking box to put it all in.