United States Marine Corps AND ANZAC Expansion to '65 Squad-Level Combat in Vietnam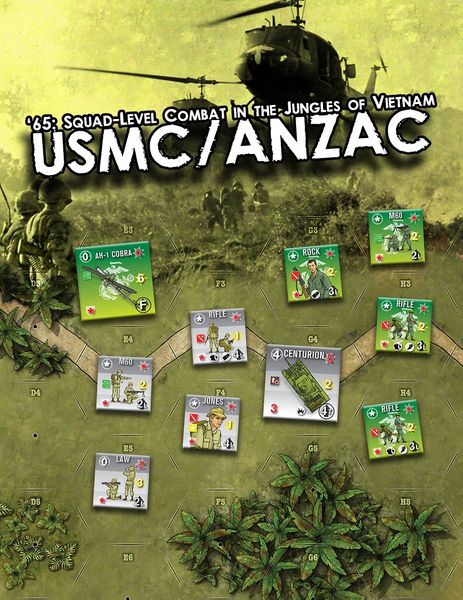 United States Marine Corps AND ANZAC Expansion to '65 Squad-Level Combat in Vietnam
Click here to download the print and play version from Wargame Vault. 
This expansion to '65 Squad Level Combat in Vietnam includes a full die-cut sheet (approximately 8.5" x 11") of United States Marines and ANZAC counters (Two sheets), including rifle squads, heroes, and armored fighting vehicles, such as the Ontos, Centurion, and eight scenarios featuring them (Four each Marines and ANZACs). The most potent squads in the game, the Marines bring devastating firepower, and heroes with iron discipline to the gaming table. 

The forces from Australia and New Zealand played a significant role in Vietnam. We'll let you recreate that role with these ANZAC counters and scenarios featuring their contributions. Centurion tanks, FN-FAL rifles, snipers, and heroes with unique special abilities will all make muster on your gaming table, and provide unique insight into their fight in Vietnam as well as a bucket of tactical-gaming fun. 
Comes in a Ziploc bag. Must own the base game, '65 Squad Level Combat in Vietnam, to play the scenarios in the Marine Expansion. Now shipping. 

Includes 2 x sheets of die-cut counters and a full-color scenario booklet and rules.