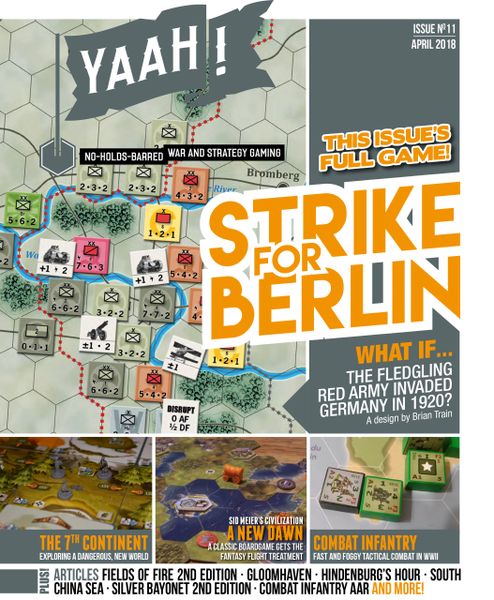 Yaah! Magazine Issue #11
Now shipping!
Get the downloadable PDF of Magazine and game at WargameVault.
What's the best thing about the arrival of spring? With the possible exception of warmer weather, it is - of course - the newest issue of Yaah! Magazine!
Yaah! #11 makes a big splash with the issue game, Strike for Berlin, designed by Brian Train. If you've ever wondered what would have happened if the Red Army had managed to win the Battle of Warsaw in 1920 - and then decided to take the Revolution into Germany - this is the game you've got to get on the table.

In addition to the game, this issue is chock-full of those great gaming reviews that we all love. Brad Smith shares his take on GMT Games' second edition of Fields of Fire, while Norm Lunde takes a look at South China Sea from Compass Games. Newcomer Zachary Homrighaus takes a deep dive into The 7th Continent, and another new writer, Joshua Buergel, heads into the dungeon with a look at Gloomhaven. The solitaire game Hindenburg's Hour gets a review from Eddie Carlson, Roger Leroux tunes into the convention scene in Canada - and then Roger and Eddie tag-team Columbia's new Combat Infantry with a review and an AAR. Nick O'Neill paws through all of the bits and pieces in Sid Meier's Civilization: A New Dawn, and Keith Beason rounds out our bucketful of reviews with his in-depth look at the 25th Anniversary Edition of Silver Bayonet.

It's 76 pages of gaming goodness that you don't want to miss! Now shipping!