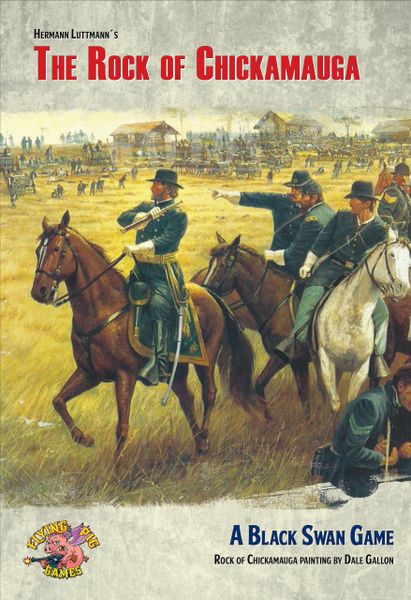 The Rock of Chickamauga
Coming to Kickstarter in the Fall of 2023!
THE ROCK OF CHICKAMAUGA
The Rock of Chickamauga is the next game in the Black Swan series and follows closely on the heels of the highly acclaimed A Most Fearful Sacrifice. Using the same proven game system, The Rock of Chickamauga covers the entire Battle of Chickamauga, fought from September 18th through the 20th, 1863 in northern Georgia. The Union Army of the Cumberland, under William Rosecrans, is driving south from Chattanooga, hoping to envelop and trap Braxton Bragg's Confederate Army of Tennessee in its vise. But Bragg anticipates the maneuver, pulls back and then counterattacks the overextended Union forces. They meet along Chickamauga Creek, the "River of Death", in an epic struggle.
The ensuing battle was a confused affair with generals exercising little control over their formation's movements. A true "soldier's battle" and an engagement that the Black Swan system was designed to simulate. Based on the system used in
A Most Fearful Sacrifice
, and similar to
The Devil's to Pa
y and
Hill of Death
, The Rock of Chickamauga will have the usual high quality production value that Flying Pig Games is known for and will not only be a deeply challenging wargame but an innovative and immersive simulation as well. 
COMPONENTS: 
1 – Full color rulebook
1 – Full color scenario Book with numerous scenarios. Some use one of the two maps, a few use both.
2 – Game Maps totally FIFTEEN SQUARE FEET of gaming goodness
4 - Sheets of a total of 352 13/16" counters  
1 – 5/8" counter sheet (176 counters) for the admin markers
90 - Cards to activate corps, initiate planned events, trigger unplanned events and create fog of war.
1 – Player Aids
2 – large, 11" x 17" Command Displays 
6 – Dice (2 red, 2 black, 2 white)